Confidence To Rise Above Obstacles
"Assess, Coach, Mentor…Repeat." Successful business owners, CEO's, C-Suites, leaders, and executives understand the power of process. They also understand the power of collaboration and teaching. At Leading Edge Consulting, we act as Business Thought Leaders, helping them refine their processes and promote the collaboration and teaching within their teams.  The result is business growth, upskilled staff and resolution of staff conflict. Learn more about what we do. At Leading Edge Consulting, we help executives, leaders, entrepreneurs and companies refine their recruit, coach and mentoring process.  By doing so, we enable them to chart their course for success in a very clear and purposeful manner. Save Save
It all began with a case of misconceptions.
What I've learned is, symbols are really important, and you have to be open to seeing the world through the lens of others. While wearing gifted, family pearls which to me were inspiring and a private reminder of my accomplishments, others, from the outside, saw just the opposite and painted a picture of me that almost derailed me from achieving a C-Suite position.
Without a senior mentor and a coach, I would not be telling you this story… [read more]
I'm a southern born African American woman, and think of myself as accomplished, well educated, professional and driven. I tried to do all the right things. I was fortunate to get a great education. I had wonderful mentors and was coached early on how to dress, speak, convey the right executive presence and I worked hard to learn from and connect with those accomplished who's who in my field. I held senior level positions, led global teams and felt I was on the right track to accomplish all my professional goals. From the outside, most people would have considered me a huge success – a force to be reckoned with. The real story began towards the later part of my corporate career when I was passed over for a C-Suite position several times – not because I wasn't qualified to do the job, but because the leadership of the company felt there were some disconnects between me, some of my colleagues and especially my team. Unfortunately, I didn't get any specific feedback…I needed specifics. To put it bluntly – there were things about me, despite what I thought was good mentorship, which were sending signals people found problematic. What I ultimately learned was I was giving off unintended incorrect messages – some thought I was showing off and they did not find me approachable. So began my challenge of determining HOW to change the perception others had of me. I wanted people to see an approachable and open-minded individual who did not intend to set herself apart from anyone – especially those whom I worked closely with. Those I needed buy-in from to make my team successful. For those of you that know me well – I can see you smiling. For those of you who haven't met me yet, I'm far from being unapproachable and do actually enjoy being an active team player – both as a leader and as part of the "pack". I do enjoy life but in the end, I'm really just a Southern woman who enjoys family, friends, a good laugh and helping others. My pearls, the culprit…or part of the "my mixed signals" – are a family legacy – given to me piece by piece from people I love. Wearing them isn't about showing them off, it's about being close to my core. They are a piece of who I am. You are probably asking what does this all mean? Well, it means people can form assumptions that can have significant implications to how others see you from the outside. At the time, my employees and peers never saw the real me – they never knew the story of my pearls, they didn't know I was approachable and loved a good laugh. Because of this misconception, I was hitting a roadblock. In short – my leadership skills weren't nearly as effective as they should be…or could be. Now came the somewhat unpleasant truth and the absolute best thing that ever happened to my corporate career: My boss, who was also my mentor, told me I had been passed over for the same corporate level promotion more than once and that "we" needed to find out why. He supported my getting a coach and having an intensive 360 done through one on one interviews. I was open; I needed to learn why…I needed specifics. I was also a bit concerned that having, and needing, a coach may appear as a sign of weakness or perhaps reflect negatively upon me. My boss gave a very direct answer: "We want you to succeed, but we have to help you get there." The company proceeded with a 360 Evaluation of me with my peers – including sitting in on meetings, and watching my interaction with my team. Finally, I got the feedback and the answers I was looking for. They saw me as standoffish, not open and not willing to work with them as a partner. We always take the negative view of feedback, and I am no different, so I took this as my peers saying they saw me as snooty, pretentious, above the "worker bees" – not part of the team aka not leadership material. When the executive coach gave me this feedback, I was of course mortified – But, I was all in. 100% let's figure this out. AHA moment. Life Changing. I worked with the coach and realized I had to talk to my team and let them get to know the real me. I'm over simplifying a bit – it was a process. In the end, I got the job, worked several more years in Corporate America and decided my real calling was paying it forward and helping other executives learn what I did. Feedback isn't easy but it is the best gift you can ever get at any point in your career. How open you are to that feedback and the action you take is up to you. Having someone who can help you get to the truth and incorporate that into gaining your personal edge is what you can get from someone who has been there before you. And that my friends, was the beginning of Leading Edge Consulting. I'd love to meet you and perhaps share some stories. If you would like to read my formal bio click here.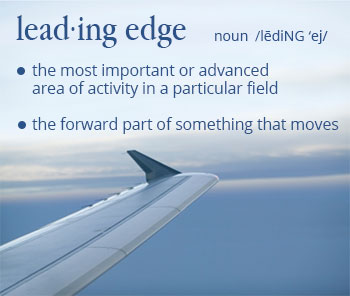 An Invaluable Coach
"Vanessa is a brilliant and insightful leader with an uncanny ability to balance personal power and tender care. She was an invaluable coach, friend and mentor to me when we worked together, and since that time, has continued to learn and evolve. I would recommend her to anyone who is motivated to improve and soar." Brenda Savage former Assistant Vice President, MassMutual Financial Group